The Adventures of

8 pounds of fuzz & good cheer!

Follow the adventures of Odie on

for new pictures every week!

Odie celebrates his 12th birthday.

February 4th, 2018
Odie is in the same business as Santa,

of spreading holiday cheer.

December, 2017
Odie & Bison Bill celebrate National Bison Day

November 4th, 2017

Odie is thankful on Thanksgiving, for leftovers.

November 23rd, 2017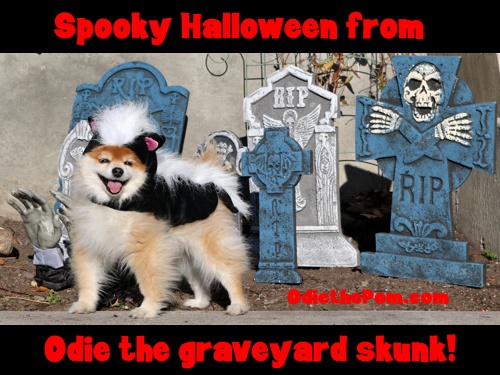 October, 2017
Cousin Sunny & Odie

August, 2017

Happy Summer!

July, 2017
Summer is for clowning around.

June, 2017

After a long winter, Odie is ready for spring!

May, 2017
Overseeing another digging project. This thing is far more efficient

than using just my tiny paws.

February, 2017

Happy Easter!

April, 2017
Christmas!

December, 2016

Snowdie!

January, 2017
Who's your Mummy? King Pup!

October, 2016

Thanksgiving!

November, 2016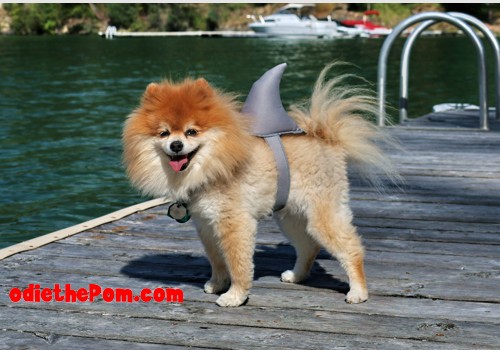 The fearsome Landshark
September, 2016
No one messes with a smiling law-and-order Pomeranian.

July, 2016

Odie takes the gold in the Obedience Olympics

August, 2016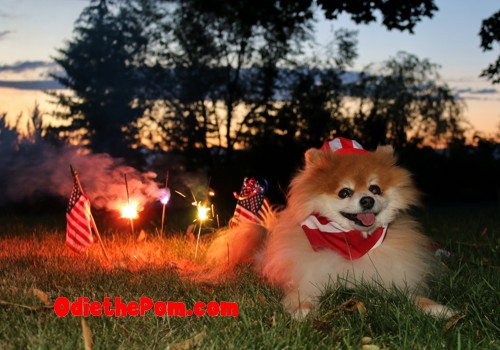 Happy 4th of July!
July, 2016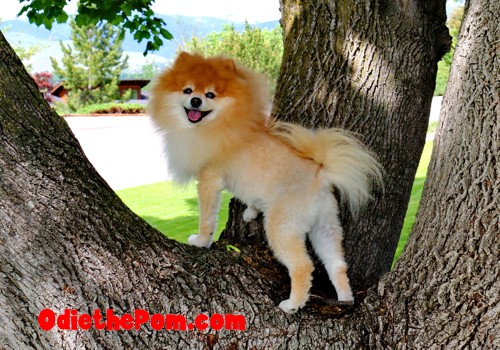 Looking extra ferocious with his Lion Cut,
May, 2016
| | |
| --- | --- |
| Cousin Sunny & Odie are ready for Spring, March, 2016 | Odie enjoying spring, April, 2016 |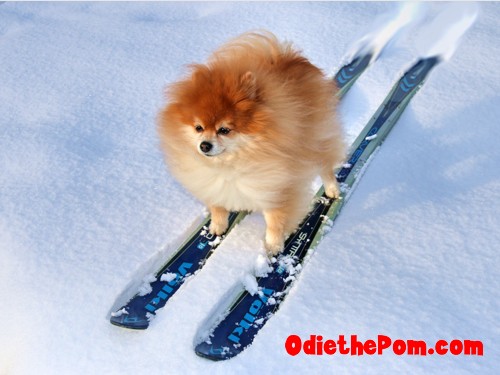 Odie the Powderanian, February, 2016
Tis the season to be dashing through the snow,

December, 2015

Anticipating Spring in the Middle of Winter,

January, 2016
Enjoying a hike on a pleasant autumn afternoon, October, 2015

Love on a veteran. You'll be doing both of you a favor,

November, 2015
Odie is all ready and suited up for football season. He's on

"special teams", the one that intercepts fumbled snacks at

tailgate parties, September, 2015
| | |
| --- | --- |
| Odie loves National Ice Cream Day, July 2015 | Odie makes the most of his Dog Days of Summer, August 2015 |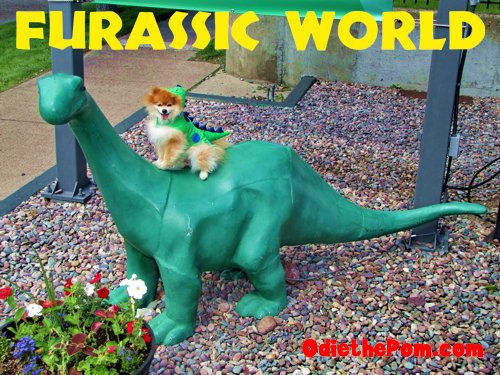 Odie really doesn't see what's so scary about dinosaurs, June 2015
| | |
| --- | --- |
| Remembering those who've kept us safe, Memorial Day 2015 | Odie loves a round of Frisbee Golf, April 2015 |
Odie goes Warhol for World Art Day on April 15th

Odie (Spoiled) Rotten can be a little punk at times.

February 2015
Odie rides to be free!

Odie hopes your holidays are filled with bright

lights, and brighter smiles!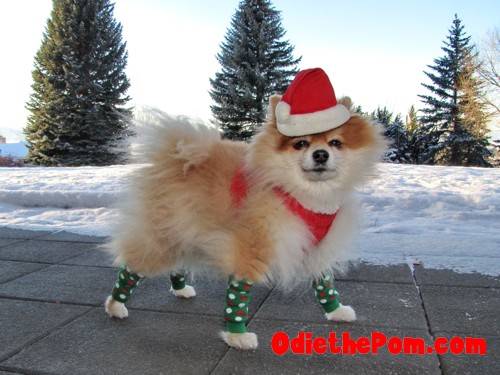 Holidays? Bring it on!.
November 2014
It's Official: Odie is "The Most Interesting Dog in the World".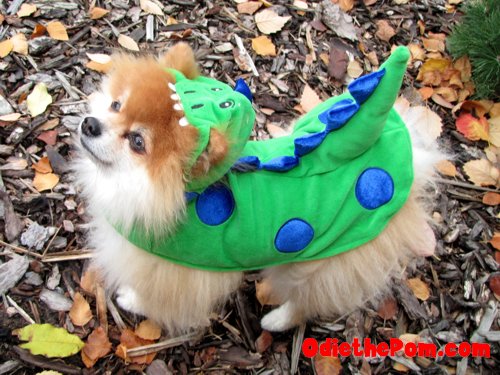 The more fearsome I look, the more treats I will get, or so I have
been lead to believe.
October 2014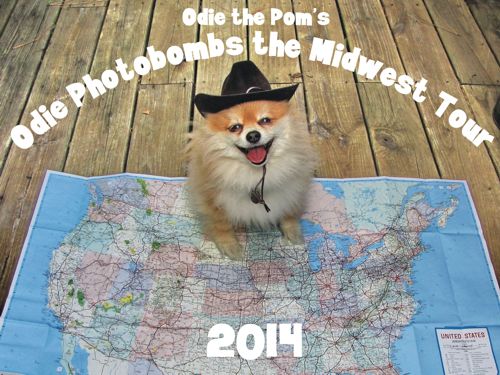 Odie prepares for his
"Odie Photobombs the Midwest Tour, 2014" trip.
September 2014
Odie loves going out for fine dining. August 2014

Look out Red Baron, Snoopy has a new wingman.

July 2014
Odie shows off his spring haircut.

May 2014

Now that it's officially summer, Odie wants to remind you to take

time out to just enjoy the day. June 2014
Odie celebrates the coming of spring by dressing

up and marching in the annual St. Patrick's Parade

March 2014

Odie takes in the vivid colors of springtime.

April 2014
Odie's got his winter coat on, and comes standard

with 4-paw-drive! January 2014

Odie's going for Olympic gold in the dog sled competition

February 2014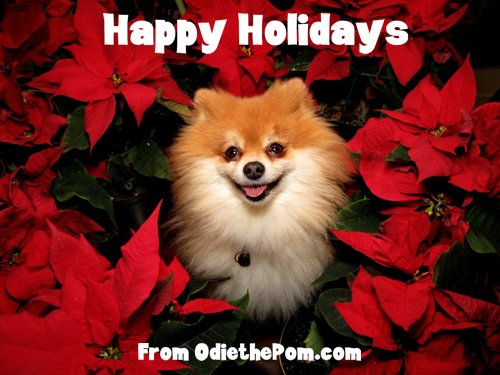 Odie wishes the most happy of holidays for his friends and fans!
Odie learns a new instrument, November 2013.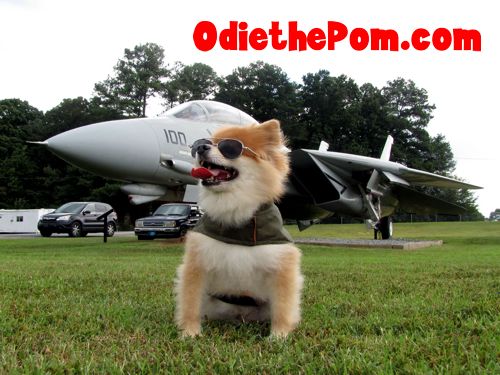 Odie Salutes our nation's veterans.
Also, you haven't really lived until you've
experienced the wind in your fur at Mach 2.2!
There are few things more pleasurable to a dog

than a stiff wind in the face, September 2013

The peeps went to Hilton Head,

and all I got was this t-shirt.
Follow Odie on

We'll alert you whenever

there's a new picture up.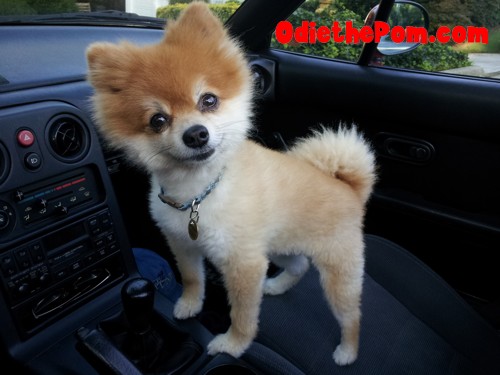 Road trip? I love road trips! Where are we going
July 2012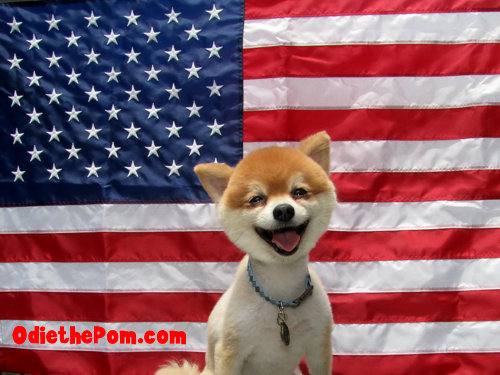 The All American Pomeranian wishes all his friends and fans a
happy and safe 4th of July!
July 2013
Odie would really appreciate it if his people would keep up with him

when he leads on hikes.

April 2013

What better way to start off the weekend than with

an early morning run with a few thousand friends?

May 2013
Odie the Pom O'rainian gets ready to celebrate the

coming of spring with his therapy dog pals in the

annual St. Patricks's Day parade.

March 2013

Odie sends his love to all his friends and fans for

Valentine's Day.

February 2013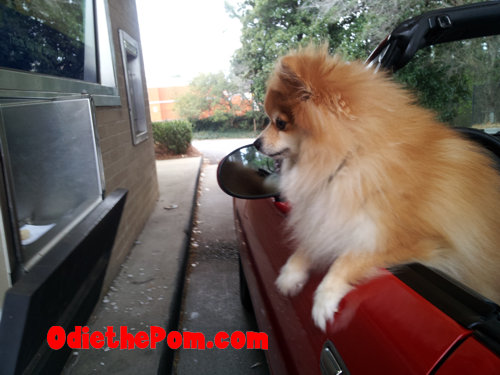 Odie goes to the beekie bank to make a treat withdrawal.
February 2013
Click here to continue on back for 2010-2012
Odie's E-Mail: Odie@MailSomeCheer.com
Odie the Pomeranian
Last Modified: 01/30/2018
(c) 2018 The McGrew Communications Group, LLC
All Rights Reserved